This post contains affiliate links. Affiliate disclosure: As an Amazon Associate, we may earn commissions from qualifying purchases from Amazon.com and other Amazon websites.
If you are going to invest in a Coffee Machine to feed your passion for coffee then these are the only machines that you need to know about. These stylish and efficient options would look great in your kitchen and get you a great cup of coffee.
This product was recommended by Cesar from Todo Sobre Café
The Breville Barista Pro is a luxury coffee machine, a combination of a grinder and espresso machine. You can control everything from this machine, for example, the grind of the coffee. With this machine, you won't need anything else to make an excellent coffee..
---
This product was recommended by Krystle Phillips from Roll Ice Cream
What could be more luxurious than having your face or something you love printed on the other thing you love. Coffee. This high quality machine would invigorate your morning cup of Joe and start your day right.
---
This product was recommended by Lindsay Fuce from Wellness With Linds
The OXO Barista Brain is exactly what its name entails, a wonderful machine that acts just like an at-home barista. This machine is easy to use, beautiful to look at it, and most impurely, brews a delicious and bold cup of coffee. You simply have to add water, ground beans, and press a button. The machine knows how to control the temperature, along with the brew time so that the coffee is completely optimized. It's a great addition and worth the price!
---
This product was recommended by Grace Woinicz from The Brilliant Kitchen Blog
But keep in mind that every brewer needs ground coffee or a grinder, and having a good grinder is much more important that even a brewer. A good one will get you 80% of the way to a perfect cup of coffee. The best one you can get today — no contest — is the Baratza Encore
---
This product was recommended by Mira Rakicevic from ComfyLiving
A true wonder in coffee-making engineering, the Breville Precision Coffee Maker is for serious coffee aficionados. It stands from competitors by offering a wide range of customization options for brewing your coffee. For both iced and regular coffee, you can tweak the settings to control flow rate, temperature, and various elements of the brewing process to your heart's content. The standout feature is Breville's patent-pending steep & release valve, which holds the water in contact with the water with precision, allowing you to create and experiment with different brews of coffee. The Breville Precision Coffee Maker brings the luxe cafe experience to your home, allowing you to impress friends with your unique and innovative brews.
---
This product was recommended by Aarti Sharma from N/A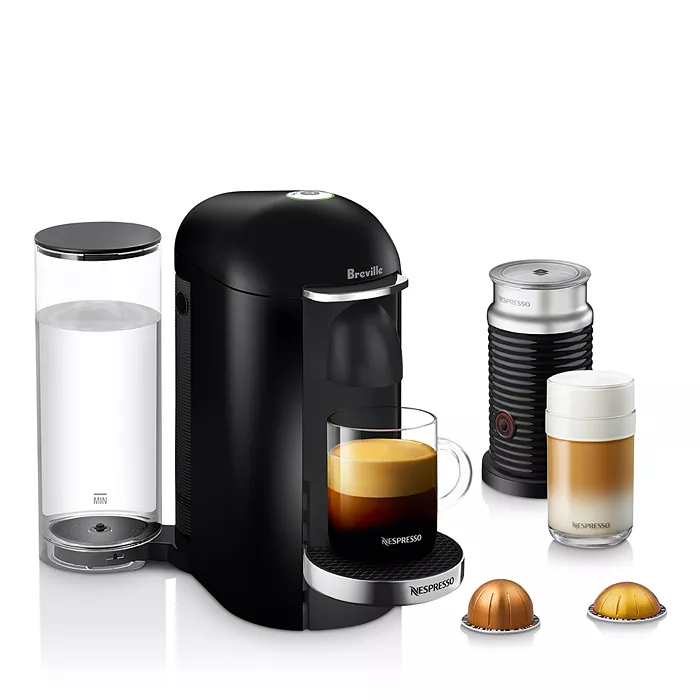 If I had two words to describe this machine, it would be… life changing. As a coffee connoisseur, I have tried an insane amount of coffee's in small town café's, coffee shops in different countries, and of course the more well-known chains such as Starbucks and Pete's. A really good cup of coffee is something I look forward to every day and never thought that I could get the same flavor or even better coffee at home. After coming to terms with how much money I spend on coffee a month, I realized that it was time to be more practical and save money. I remember walking by a Nespresso shop in the mall and always seeing how crowded it was all the time. I went online and came across the machine on Bloomingdales, and after reading positive reviews I placed an order. Little did I know that this purchase would actually change my life. The CentrifusionTM technology in the machine is what I believe makes it so different from something like a Keuirg. The crema that is formed on top of the coffee is absolutely exquisite and what makes the flavor of the coffee pretty much exact to what you'll pay 6 dollars for at a coffee shop. There are so many different types of coffee and espresso levels/flavors that you can pick and all you have to do is insert the pod, push a button and there you have it. The machine also comes with a milk frother which is perfect if you're into lattes or macchiato's. Making the perfect latte or macchiato literally takes less than 3 minutes to make and after you take the first sip you'll be imagining yourself sitting in a small little café in Paris. I purchased the machine at the end of January and have not purchased coffee from anywhere since!
---
This product was recommended by D. Gilson from BroadFormInsurance
Sometimes the more luxurious item is the more simple item, and that's true when it comes to my favorite coffeemaker: the Chemex pour-over system. If you've been to a hip coffee shop in the United States over the last decade, chances are you've seen a barista preparing a pour-over of a high-end single origin coffee. That's because it's one of the best ways to bring out the notes in most roasts, and you can easily use a Chemex at home. Plus, it looks way prettier sitting out on your counter than any other coffeemaker.
---
This product was recommended by Dorian Bodnariuc from Coffee Brewing Methods
The Moccamaster is one of the preferred coffee makers for specialty coffee lovers. It is on the list of SCA certified home brewers, and it has been for a number of years consistently. The Moccamaster does not abunde in features, but this coffee maker is made with high quality materials. This will reflect in the reliability and durability of the coffee maker, a Moccamaster will last you a lifetime.
---