This post contains affiliate links. Affiliate disclosure: As an Amazon Associate, we may earn commissions from qualifying purchases from Amazon.com and other Amazon websites.
A nice and decent kitchen renovation is not always simple. Before starting any significant home renovation, there are several things to think about. You need to carefully weigh all of your alternatives, evaluate your budget, and select the best artisans who will put your ideas into effect if you want to acquire a functioning kitchen that enchants its exquisite design.
We have compiled a number of practical suggestions to make the process of remodeling your kitchen as successful and quick as possible!
Examine and fix installations
Your kitchen's functionality is paramount. Check all of your water pipes and make any required repairs or replacements before you start gluing new tiles and purchasing new appliances. In particular, renovation is undoubtedly a good idea if you frequently struggle with clogged sinks. Once you are done with this part of your kitchen, only then can you go on further and decorate.
Set a budget
Make a cautious financial plan to prevent the kitchen renovation project from becoming a nightmare. Future-oriented plans are crucial. As a priority, plan the new kitchen to fit your family's needs. This way, you will avoid future corrections that may cost you more time and money. By finishing everything in one go, you will save yourself a lot of nerves later.
Look for a contractor
Finding a good contractor is another key point in your kitchen renovation. This is because a good contractor will make sure your kitchen will last a long time before another renovation. To that end, ask your friends and relatives about their encounters with contractors. Likewise, you can search online for contractors. Get in contact with those on your shortlist and get bids for building your kitchen. As the folks at artisticstonedesign.com explain, there are several factors to take into account, including designing the space, choosing the type of countertop, deciding on colors, and supervising the contractors. So, you need to look for someone who offers great kitchen renovation solutions with a quality-price balance. After selecting a contractor, specify the scope of their job so as to make it easier for both you and them.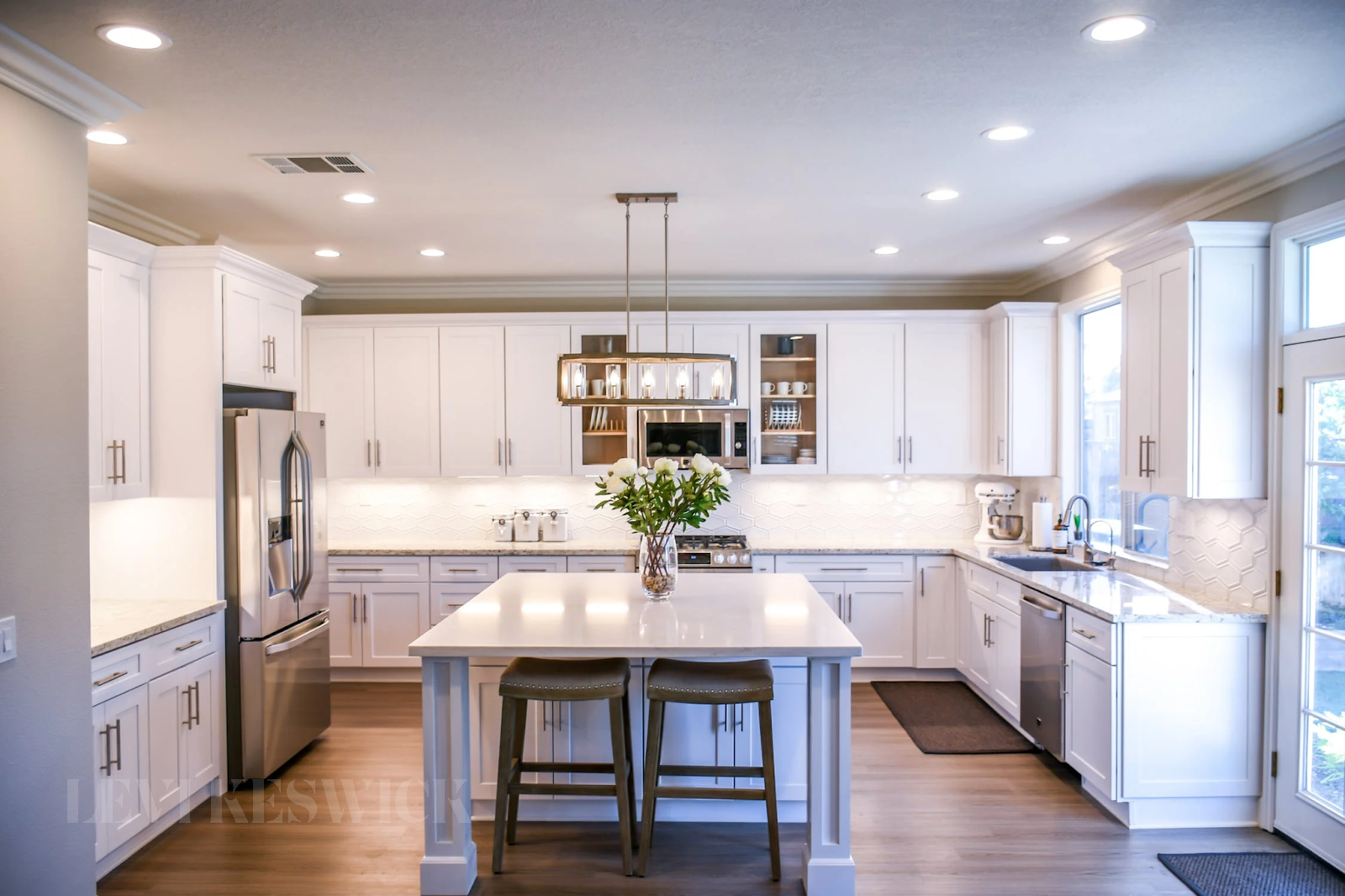 Kitchen tiles
Kitchen tiles are the top option for both floors and walls since they are a very conventional but also well-liked covering. They can be rectangular, square, or have a 3D variation that works well for walls. The size of the kitchen's tiles varies depending on the size of the room; they can be big, medium-sized, or the tiniest kind, mosaic. Ceramics, granite, or marble are the materials used to make them.
Kitchen ceramic tiles come in a variety of styles and colors, and they are easily installed with adhesive and separated with grout in the desired color. In any case, it is a sure bet they will make your kitchen look delightful!
Kitchen floor
Because the majority of work in the kitchen is done standing up, it is important to choose a kitchen flooring that is both easy to clean and durable. For instance, wood is an excellent and really cozy material. However, the wooden floor should not be too close to the sink since it might become damaged if it is exposed to water too much.
On the other hand, due to their low care requirements, ceramic tiles may be the best choice for the kitchen. The joints are the only issue since they become dirty easily. In order to minimize seams, we advise using tiles that are as large as possible while decorating the kitchen.
Invest in new kitchen elements
The majority of your remodeling budget will undoubtedly go toward the kitchen elements. Nevertheless, the refrigerator, oven, sink, etc., are the key components that every kitchen simply has to have. Also, make sure you can organize the components even better to give your kitchen a more contemporary appearance. For instance, keep in mind that the sink needs to be situated either next to or across from the cooking area.
Improve lighting
Lighting is one of the most crucial factors to take into account while remodeling a kitchen. Although many people believe that built-in lighting is adequate, interior design professionals advise adding as many lighting sources as you can to the kitchen. To achieve a more consistent light, choose a light bulb lower than the height of the ceiling rather than a ceiling light. Likewise, remember that hanging cabinets might prevent light from shining on your work areas as well.
The kitchen is where culinary magic is created. Due to frequent use, this space should be practical, straightforward, and functional. Likewise, it is crucial that the kitchen be a space that is tailored to your preferences and customized to your cooking style. To that end, make sure you follow some of the above-mentioned tips to achieve this! Good luck!