This post contains affiliate links. Affiliate disclosure: As an Amazon Associate, we may earn commissions from qualifying purchases from Amazon.com and other Amazon websites.
Wintertime is the season to be jolly and what better way to do that than by creating a magical backyard full of holiday cheer? This blog post will show you how to transform your backyard into a winter wonderland fit for any fairy tale. Whether you want to decorate for a party or just add some festive flair, follow these tips and tricks for making your yard look like something out of a storybook.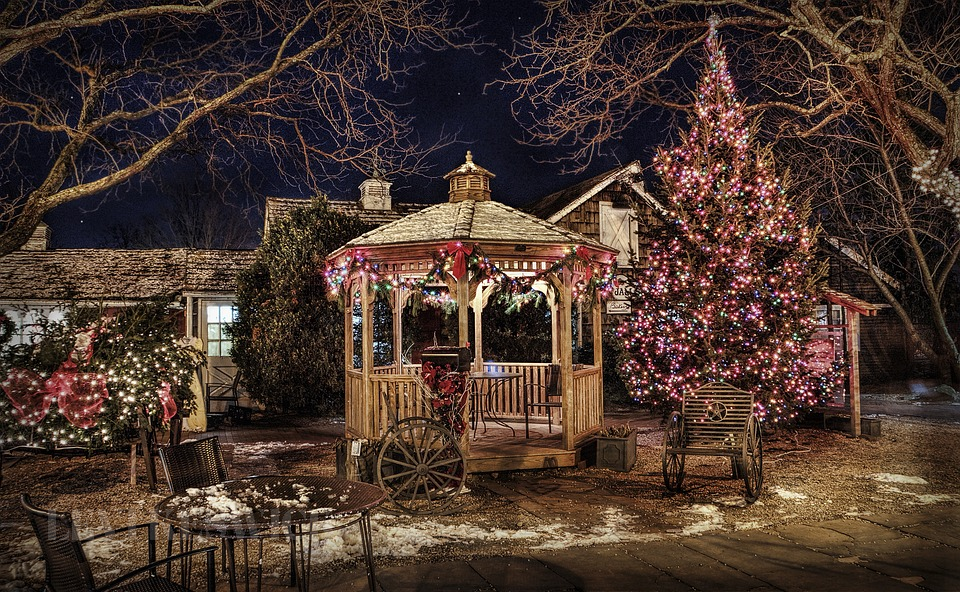 Illuminate The Space
You want to make sure your backyard looks nice at all times of the day. The people at grandilluminations.com know how proper lighting can make a huge difference in this regard. Illuminate the backyard so you can enjoy winter fun whenever you feel like it. Make sure to find some great string lights and fairy lights to truly do this! You can drape them from trees or hang them around the backyard, creating a magical atmosphere that will make it feel like a fairytale wonderland. Twinkle lights are also great for illuminating outdoor spaces, adding a soft glow to an evening under the stars.
Create A Fire Pit
A fire pit is a great way to stay warm on a cold winter night and create an outdoor atmosphere for gathering with friends and family. Whether you're creating a fire pit from scratch or using store-bought materials, creating your own fairy-tale backyard is easy.
For creating a fire pit, you will need to select the right location in your yard and make sure it abides by local laws and regulations. You will also need to find materials for this project, such as pavers or stones for the walls, a metal fire ring, and gravel for the bottom.
Use Natural Elements
Make the most out of the natural elements that you have at your disposal. These are the following:
Snow and Ice
Pinecones
Berries
Evergreen branches
Twigs
Snow and ice can be used in various ways. You can create snow sculptures and build a winter wonderland using your outdoor space. If there's enough snow, you could even make a mini-igloo for the kids to play in! Pinecones, berries, and evergreen branches add color and texture to your winter landscape.
Create A Winter Garden
You can also create a winter garden to create an enchanting backyard for the winter holidays. To do this, you'll need some hardy plants and shrubs that will thrive in cold weather.
Evergreens like conifers, holly, yews, junipers, and boxwood are ideal for creating a lush backdrop. You can also use colorful blooming plants like hellebores, pansies, and violas to bring a bit of color to your winter garden. Since these plants can tolerate cold temperatures, they will thrive in the winter months.
Get Winter-themed Décor
You should also incorporate winter-themed décor in your backyard if you want to create a fairy-tale atmosphere for the holidays. Choose from frosted pine cones, wintery lanterns, and snowflake lights to add some seasonal cheer to your yard! If you're getting creative, why not make your own decorations?
You should also use throws on your patio furniture to keep people warm while they enjoy the festivities! Additionally, getting some wreaths, holiday trees, and string lights can help bring that winter wonderland feel to your backyard. Whichever decorations you choose, make sure that they're weatherproof so that you don't have to worry about them getting ruined by rain or snow.
Close Off Your Patio
To make your backyard more enjoyable during winter, you should close off your patio. Doing so will create a more cozy, inviting space that you and your family can enjoy this holiday season.
Build screens, walls, or awnings to create an enclosed space that will keep out wind and snow. Once you have your enclosure built, you can start decorating it like a winter wonderland. Add blankets and pillows for seating, with warm throws draped around the edges of your patio furniture.
Incorporate Winter Activities
There are tons of great outdoor winter activities you can incorporate into your backyard for a magical holiday season. If you have space, why not build an ice rink? This is a great activity for all ages and one that will create lasting memories.
If you don't have the right resources or space, consider incorporating other winter activities such as creating sledding hills, hosting snowball fights, or building snowmen. These are all activities that take minimal effort but are sure to bring hours of entertainment.
You can even light up the winter sky while incorporating outdoor activities with DIY luminaries or twinkle lights strung through trees and bushes. Not only will this create an enchanting atmosphere, but it will also provide a safe space for your family to enjoy the winter festivities.
Wintertime should always be associated with holidays and joyful memories, which is why you should adjust your backyard to it. Get some great lighting options and create a fire pit to keep warm. Use natural elements and try creating a nice winter garden. Additionally, get stocked up on winter-themed decorations and close off your patio, so you can sit on it while it's cold outside. Finally, don't forget to incorporate some fun winter activities!