This post contains affiliate links. Affiliate disclosure: As an Amazon Associate, we may earn commissions from qualifying purchases from Amazon.com and other Amazon websites.
If you're a golf enthusiast, there's no doubt that you've dreamt of taking a golf vacation at some point in your life. A chance to play on some of the most famous courses in the world, with nothing but spectacular views all around you? It's a dream come true for many golfers. But if you've never planned a golf vacation before, it can be a bit daunting. There are so many things to consider. From where will you stay and what golf course will you play on to what else there is to do in the area, there's a lot to think about.
Therefore, in this comprehensive guide, we'll walk you through every step of planning a perfect golf vacation that you'll remember forever. So grab your clubs and let's get started!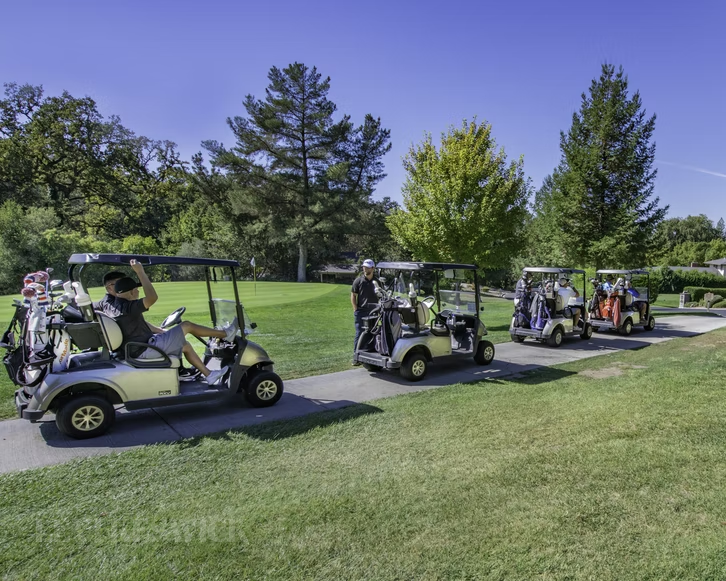 Brush Up On Your Golf Etiquette and Rules
If you're new to the game of golf or haven't played in a while, it's important to brush up on your etiquette and rules before planning your golf vacation. There is a certain level of decorum that is expected on the golf course, and if you're not familiar with the etiquette, you may unintentionally offend someone. Likewise, if you don't know the rules of the game, you could end up taking strokes that you didn't need to or slowing down play.
Most importantly, be respectful of other players and their games. This means no shouting, swearing, or throwing clubs. Be sure to always repair your divots and rake bunkers after hitting out of them and don't stand in someone's line of sight while they're taking their shot.
Brush Up On Your Golf Skills
If you want to have a successful golf vacation, you need to make sure your golf skills are up to par. Depending on the type of vacation you're planning, you may be playing with people who are much better than you. If your skills aren't up to par, you could end up feeling frustrated and ruining your fun.
Take some time before your trip to brush up on your skills. Whether that means taking a few lessons or just spending time at the driving range, work on honing your skills. Some useful advice and tips found at theleftrough.com may also help you with different aspects of your game. So take some time to focus on your skillset before planning your trip.
Choose Your Destination Carefully
After you've brushed up on your golf etiquette and skills, it's time to start thinking about where you want to go on your trip. This is a big decision because there are so many amazing places to play golf all over the world. You need to take into account things like your budget, the time of year, and how many people you're going with.
If you want to save money, consider planning your trip during the shoulder season. This is typically April-May or September-October. Traveling during these times will help you avoid the peak season crowds and prices.
Once you've considered when you want to travel, it's time to start thinking about where. If you're looking for an international destination, some popular options include Scotland, Ireland, and Australia. For US destinations, try Myrtle Beach in South Carolina or Pebble Beach in California.
Find the Perfect Golf Course
After you've decided on your destination, it's time to start looking for the perfect golf course. If you're not familiar with the area, this may take some research. You can start by reading online reviews or asking people you know who have been there. Once you've narrowed down your options, take a look at each course's website to get a feel for what they offer.
Be sure to consider things like the type of terrain, the length of the course, and whether or not there are any water hazards. You should also think about the difficulty of the course and whether or not it's suitable for your skill level. It's important to find a balance between a course that is challenging but still enjoyable to play.
Book Your Tee Time
Once you've found the perfect golf course, it's time to book your tee time. This is usually done through the course's website or by calling the pro shop. Be sure to book your tee time well in advance, especially if you're traveling during peak season.
If you're traveling with a group, be sure to inquire about group discounts. Most courses offer some type of discount for large groups. You should also ask about things like caddies and cart rentals when you book your tee time. In some cases, these things are included in the price of your green fees.
Don't Forget The Essentials
While you may think that all you need for a golf vacation is a set of clubs and some balls, there are quite a few things you'll need to pack. In addition to your clubs, be sure to bring along plenty of golf balls, tees, a towel, sunscreen, water, snacks, and clothing appropriate for the weather.
You may also want to pack a first-aid kit in case of any minor injuries. And if you're traveling internationally, don't forget your passport and any other required documents.
By following these steps, you can be sure that your next golf vacation will be one to remember. Whether you're traveling alone or with a group of friends, taking the time to plan will ensure that you have a great time. Once you've arrived at your destination and gotten settled in, it's time to relax and enjoy yourself. After all, that's what a golf vacation is all about!