This post contains affiliate links. Affiliate disclosure: As an Amazon Associate, we may earn commissions from qualifying purchases from Amazon.com and other Amazon websites.
It's no secret that the real estate market is a minefield of potential hazards for the unwary home shopper. With so much at stake, it's essential to be as informed as possible before embarking on your search for the perfect property. In this comprehensive guide, we'll show you how to secure your private details and safeguard your interests at every stage of the process. By following our simple tips and tricks, you can rest assured that you're doing everything you can to avoid any nasty surprises further down the line. So let's get started!
Only Work with Reputable Real Estate Agents and Companies
When it comes to finding and buying a property, the stakes are high and you need to be sure that you're dealing with reputable real estate agents and companies. After all, when you're spending such a large amount of money on something so important, it pays to do your research and make sure that any agent or company you work with has a proven track record of success in their field. That's why we recommend taking the time to check out reviews and ask for references from past clients. Furthermore, in order to find a reputable source for local real estate agents it's important to read the fine print of any company you're considering working with. Doing these things will help ensure you get the best possible service while securing your private details throughout every stage of the process.
Be Careful with the Terms of Use You Accept
We all click "I agree" without reading the terms of use when signing up for a website or using an app, but it is important to read these carefully. Terms of use can contain language that gives companies permission to use or share your personal information in ways you may not have expected or intended.
For example, some websites might include a clause in their terms of use that gives them permission to share your contact information with advertisers. In other cases, companies may reserve the right to sell or rent your data to third parties. This means potential buyers must be aware of what they are signing up for before they commit to anything.
Keep Your Personal Information Safe When Looking for a New Home
When looking into purchasing a new home, it is important to protect your personal information. It is all too easy for that information to land in the wrong hands if you do not take precautionary measures when looking for your space. To best ensure that all of your personal details stay secure throughout this process, there are a few key steps you can take. For example, never give out any of your financial or personal information over the phone, email or any unprotected websites. And if you are asked to sign any documents, make sure that you read them thoroughly before doing so. Doing so will provide you with peace of mind knowing that as you look for the perfect house, your identity is safe from any potential security threats. By understanding key aspects of maintaining privacy during the search and closing processes, you can be confident when securing a brand-new home.
Be Aware of Scams and Fraudsters Who May Try to Take Advantage of You
Securing your private details during the process of searching for a house is an essential part of staying safe. Regretfully, there is still a risk that you could be taken advantage of by scammers and fraudsters who are out to get your money or personal information. Some common types of scams to look out for include online scams, phishing emails, and fake websites. It's important to be aware of the warning signs associated with these types of scams so you can quickly spot them and act accordingly. If something doesn't seem right, take extra caution before sending any money or agreeing to anything. Trust your instincts – if it looks too good to be true, it probably is. To protect yourself and your possessions, it is important to stay alert and be aware that these malicious actors exist. Always confirm the identity of anyone asking for money or sensitive data before providing any details, as this could save you from experiencing huge financial losses or feeling violated afterward. Taking these precautionary measures will ensure that you and your loved ones stay safe while finding the perfect home.
Only Provide your Private Details to Trusted Sources
As we already mentioned, it is important to be aware of scams and fraudsters. When searching for your new home, you should only provide your private details to trusted sources such as real estate agents or property owners. Make sure that the company you are working with has a good reputation in the industry, as this will help ensure your personal information remains safe throughout the entire process. Additionally, do your research to make sure that the person or company you are working with is legitimate. Ask for references from past clients and read reviews if available. Being cautious and doing your due diligence can go a long way in protecting yourself from identity theft or any other security risks.
Shred Documents That are no Longer Needed
It's important to keep track of your private documents, especially those related to the house hunt. When it comes time to dispose of paperwork that is no longer needed, it's always best to go the extra mile and shred them. Shredding documents helps protect your identity by making the information unreadable and is a cost-effective way to ensure minimum risk of data breaches. Investing in a paper shredder can pay off in the long run– not only will you have peace of mind knowing that you are staying secure, but you can also rest assured that sensitive information remains where it belongs– with you! Luckily, you can easily find paper shredders at most office supply stores, so you can have an extra layer of security in no time.
Secure Your Personal Devices
When it comes to the home buying process, you probably didn't think of your technological devices, such as your computer and smartphone, being vulnerable to security threats. However, it is important to think about how you can protect these devices when looking for a home. Make sure that your devices have the latest security updates and antivirus protection. Avoid public Wi-Fi connections if possible and only use secure networks. This is because public Wi-Fi networks are more vulnerable to malicious actors and hackers. Additionally, you should use a password manager app to create strong passwords for all your accounts and make sure that they are regularly changed. With these simple steps, you can ensure that your devices remain safe and secure while searching for the perfect home.
Use a Credit Monitoring Service
Another helpful piece of advice to keep in mind during the home-buying process is to take advantage of a credit monitoring service. This type of service can provide you with real-time notifications when new accounts are opened or changes are made to your current ones. This gives you an extra layer of protection as it allows you to quickly spot any suspicious activity and act accordingly. Additionally, credit monitoring services may be able to provide you with additional benefits such as identity theft protection, which can give you peace of mind while searching for a home. In order to find the best one for you, take some time to research credit monitoring services and their features.
Trust Your Gut
As we already stated before – if something doesn't feel right, trust your gut. Research the company or individual you are working with and make sure that everything is in order. If a deal seems too good to be true, it probably is. Be aware of any signs of potential fraudsters such as requests for upfront payments or personal information without explanation. It's important to remember that scams can take many forms and can range from seemingly legitimate businesses to online offers. Being aware of these potential threats is the first step in protecting yourself.
Be Cautious When Sharing Photos and Details About Your New Home on Social Media
When it comes to finding your perfect home, you want to make sure the details of the house remain private until you have settled in and are ready to share. This is especially important when it comes to social media, especially if you find yourself considering a certain property. Sharing photographs and sensitive information digitally can make your home vulnerable to criminals searching for easy targets. Before sharing any photos or details about your new home on social media, use caution and consider safety precautions such as making posts only visible to friends and contacts you know, or refraining from posting about the house altogether until you have officially moved in. Or, even better, don't share anything at all. Only this way you can be sure that your home and its details remain secure.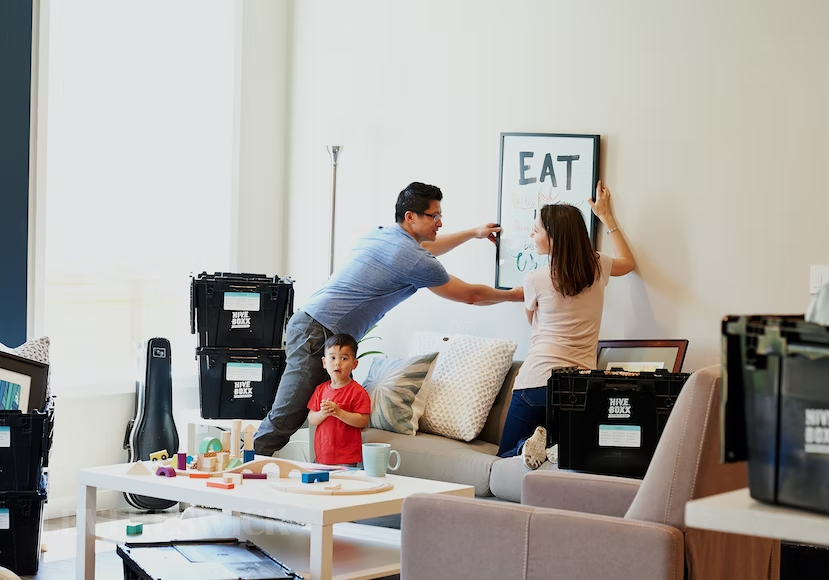 Get a Home Security System Installed Before You Move in
When purchasing a new house, security is a major concern. Get one step ahead and have a home security system installed before you even move in. Not only will it give you peace of mind, but it can also be an effective deterrent for would-be intruders. The best part is that thanks to the ever-advancing technology, modern security systems are easier and more affordable to install than ever before. With options ranging from cameras and sensors to automated 'smart' systems that offer secure video communication with your doorbell, there's something for everyone when it comes to staying safe in their own home. Don't wait until something bad happens – invest in home security now!
What are the Best Types of Home Security Systems?
It's important to take the necessary steps to ensure that your family and belongings are safe and secure at all times. One way to do this is by investing in a quality home security system. Home security systems come in many shapes and sizes, with features ranging from motion sensors and cameras to automated 'smart' systems that can give you peace of mind even when you're away from home. With the right setup, not only will you be able to monitor your home while you're away, but you can also keep an eye on who is coming and going in and out of your property. No matter what type of system best fits your needs, investing in one is a great way to protect yourself, your family, and your belongings.
What to do if You've Been a Victim of Identity Fraud?
Identity fraud is a serious crime that can have devastating consequences for its victims. It occurs when someone steals or misuses your personal information such as your name, Social Security number, credit card numbers, and other financial information without your knowledge or permission. If you believe that you've been a victim of identity fraud, it's important to act quickly. Taking the right steps now can help protect you from further damage and bring justice to those responsible for the crime.
Your first step should be to contact one of the major credit bureaus to place a fraud alert on your credit report. This will prevent anyone from opening new accounts in your name without further verification from the creditor. It's also wise to close any existing accounts that may have been compromised, as well as check your credit reports regularly to look for any suspicious activity. Finally, file a police report and contact the Federal Trade Commission to report the fraud. Taking these steps will help protect you from further damage and bring justice to those responsible for this crime.
Protecting your home and identity from criminals is a must. Taking the proper measures, such as installing an effective security system before you move in, refraining from sharing sensitive information online, or investing in quality home security systems can help keep your family safe. Additionally, if you do become a victim of identity fraud it's important to act quickly by placing a fraud alert on your credit report and filing reports with the police and Federal Trade Commission. By taking these steps now, you can ensure that both yourself and your property remain secure at all times.