This post contains affiliate links. Affiliate disclosure: As an Amazon Associate, we may earn commissions from qualifying purchases from Amazon.com and other Amazon websites.
This article showcases our top picks for the
Best High End Outdoor Grills
. We reached out to industry leaders and experts who have contributed the suggestions within this article (they have been credited for their contributions below). We are keen to hear your feedback on all of our content and our comment section is a moderated space to express your thoughts and feelings related (or not) to this article 
This list is in no particular order.
This product was recommended by Surinder Multani from BBQ Outlets
The arrangement and design of this space incorporate grates made from stainless steel. The rack itself can be separated so that various food can be grilled at varying levels. This means that if you want to grill up burgers, brats, and some hot dogs altogether, you can do so! Most kamado-style grills are well known for having lids that are hefty in weight. However, due to the hinge that is used on the lid of the cookers by Kamado Joe, the weight of the lid is automatically reduced by up to 96%! This means there should be no more fear of causing unintentional devastation to the ceramics that are used to construct the lid when opening or closing it. It also lets you keep the lid open at any preferred point of degree so that if you would like to continue your grilling with the lid slightly open, you can do so. Some of the added components that stand out to us and come with these cookers include – but are not limited to – heat diffusing panels, the amp firebox with an upright partition, and the sliding ash drawer. The firebox in particular consists of 6 segments, which lessens the chance of it breaking.. It also includes in it an upright partition, which gives you more of a clear viewpoint when stacking your charcoal on a particular side of the cooker. As for the ash drawer, this is a patented sliding feature that comes with an ash tool and is sure to make emptying it all out at the end, even more trouble-free.
---
This product was recommended by Surinder Multani from BBQ Outlets
When it comes to commercial-quality home gas grills, the Alfresco ALXE gives a memorable first impression with its cooking grids, firebox, drip pan, control panel, ceramic briquette trays, and inside and outside of its hood made from 304 stainless steel. The burners below are 18 SR stainless steel. A stand-out feature is the removable ceramic briquette trays that sit directly over the conventional burners. The air cavities on the back of each briquette radiate an even heat across the entire cooking surface regardless of the temperature you're cooking at. Not only that, but because the trays are removable, the grill is much easier to clean. Another wonderful feature of this carefully designed grill is the slide-out smoker box with a dedicated burner rated for 5,000 BTUs. You can use aromatics, woodchips, or liquids in the smoker box to get the exact flavor profile you crave. It releases the smoke into a passageway at the bottom of the grill, allowing the flavor to engulf all the food on your grill, instead of just what is directly above it. The commercial-style rotisserie motor is both hidden and completely built-in. It's also chain-driven, meaning you can easily turn up to 50 pounds of meat in front of the rear infrared burner without worrying about your food "jumping." That burner is rated at 18,500 BTUs.
---
This product was recommended by Andy from Cloom
Rear grease – Blackstone has updated the grease Management on this unit. All units now have the newly improved rear grease Management. You may receive a rear grease or a front grease drain. Replace your standard grill – replace your grill or BBQ with a Blackstone griddle and never look back! This grill is simple to use and easy to assemble, so you'll be cooking in no time. Eliminate the hassle of kerosene, charcoal and matches; this grill includes an easy start, Battery powered push button ignition. With the simple push of a button your griddle is ready to go! Take the headache away from outdoor cooking and spend more time enjoying the outdoors Restaurant style cooking – with 720sq inches of flat top grilling, This griddle is perfect for breakfast, lunch and dinner. Cook eggs, pancakes, Quesadillas, grilled cheese, steak, Potatoes, Teppanyaki style foods and more. Also enjoy a bottom shelf and two side shelves for food storage and prep Controllable heat zones – four independently controlled 15, 000 BTU stainless Steel burners make a total of 60, 000 BTUs controlled low to high for versatile cooking options. Propane fueled by a standard 20lb tank with an accommodating tank storage tucked nicely under the left side shelf Durability and longevity – this Blackstone grill is built to last with a powder coated Black steel frame, stainless steel burners and thick cold rolled steel cooktop. Super simple to clean, making post-meal cleanup a breeze
---
This product was recommended by Andy from Cloom
This product is a Natural Gas unit and you must have Natural Gas plumbed out to your patio or deck to be able to use this grill; If you do not have Natural Gas plumbed, please look at our selection of Propane barbecues Natural gas grill with 10 year, 100 Percent Weber Guarantee, 10 foot flexible hose included ,Left table down width – 42 inches Boasts the Gs4 grilling system with improved infinity ignition, burners, porcelain-enameled Flavorizer Bars, and grease Management system Porcelain-enameled, cast iron cooking grates. Dimensions – lid closed (inches): 44.5H x 52W x 27D 529 Square inches of cooking space over three burners Open cart design with six tool hooks and two large wheels. Built-in lid thermometer 3D interactive assembly instructions for this product are available through the free BILT app.
---
This product was recommended by Roger Lee from CozyChew
Smoker grill – the name speaks for itself is a dual-function tool. If the smoker and grill both have their distinct advantages, all of them are converged in one. This combination helps you control the smoking process better and more effectively. This product is rated at the high-end range for its commendable quality, and the name wood pellet grill shows the difference of this – the fuel. Not similar to charcoal or gas smokers, it cooks food by the wood pellets. Z GRILLS ZPG-450A has auto ignition and temperature control. All you need to do is start and set the temperature, and then the grill will automatically maintain and balance the temperature and the fan. You can diversify the dishes to your family BBQ with this 6-in-1 smoker grill combo. No matter what kind of food you want: bake, grill, smoke, or braise, this product can all satisfy.
---
This product was recommended by Katherine Brown from Spyic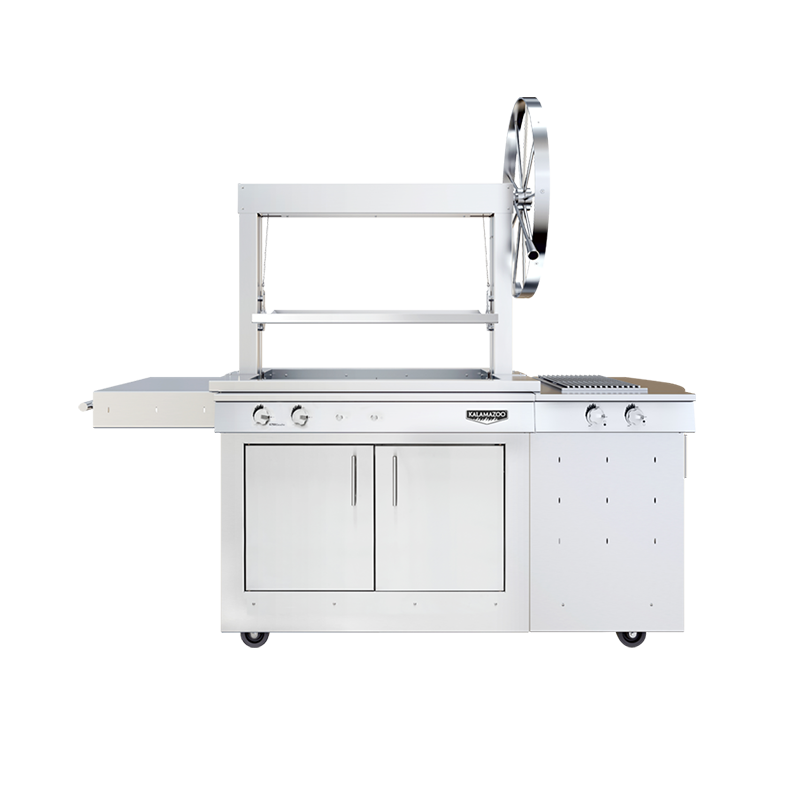 With a 30 inch wheel with no ratchets, it turns smoothly and requires only one hand. It is made of heavy-duty stainless steel and is built to last. Gas-powered burners get the wood-burning quickly while grates with a 28-inch vertical range guarantee precision cooking. This grill is also hefty enough and can hold a whole animal for roasting.
---
This product was recommended by Andrew Griffith from Garden Furniture
With the change over to summertime comes many things, including days by the pool, long walks on the beach, traveling, and most importantly, grilling season. When it is too hot to turn on your oven, the grill comes to the rescue. Many grills nowadays have multiple features which can come in handy. But which brand do you choose? Which grill will offer the best of the best? That would have to be the Napoleon Prestige PRO 825 Propane Gas Grill. This grill has everything you could ever need in an outdoor cooking appliance. The Napoleon Prestige includes infrared wavy grills that prevent smaller foods from falling in, and provides even cooking. This grill also features a rotisserie hook up, and a smoke tube to smoke anything you could want. Its large size provides lots of room for multiple foods to be grilled at once and makes family time barbecues much quicker. It also has ample space for any cookware, and has interior lights that will let you cook late into the night. This grill has it all and more and is the perfect cooker for all grill enthusiasts alike.
---
This product was recommended by Stephen Curry from CocoSign
If money is not a problem and you only need to own a quality outdoor grill then Blackstone 1666 Heavy Duty Flat Top Grill Station is a good choice to make. It's available on Amazon and is winning hearts with its amazing look and feel. It features a wide grilling surface, 339 Sq. Inch, and is perfect for a huge house party. It's very portable and easy to carry.
---
This product was recommended by Stephen Curry from CocoSign
For a budget buy, my bet is on BBQMM Charcoal Korean BBQ Grill Outdoor Portable BBQ Grill. It's effortless and doesn't need anything tricky to start working. You can work on it using charcoal and wood. It does the job perfectly for 3-4 people.
---
This product was recommended by Berlie Cowan from Effortless Outdoors
This is the number one choice when money is no object. This top-of-the-line stainless steel grill is compact but extremely powerful, with the main burner boasting 96000 BTU. It also features halogen lights, hot-surface ignition, a single side burner, and a ceramic infrared back burner. So considering its design, high power, good construction, and various cooking options, plus the fact that I have one In my backyard, I definitely recommend it as one of, if not the best, high-end outdoor grills on the market today.
---
This product was recommended by Carolyn Mitchell from Sawyer Twain
If you're looking for a premium charcoal grill that can withstand any environment without corroding, this is it. As you cook, simply adjust the charcoal bed and sliding air vents to control the temperature. Add charcoal using the front-loading door. Allow the cast iron cooking grids to do the rest. When your family and friends see the proprietary wave grid lines perfectly seared into a juicy burger, they'll know you used this Napoleon grill.
---
This product was recommended by Carolyn Mitchell from Sawyer Twain
Whether you prefer natural or propane gas, this grill delivers! The stainless steel design ensures your family can enjoy backyard BBQs for years to come. Use the infrared back burner to create mouth-watering rotisserie chicken, while the Sizzle Zone and "S" style grill grates will allow you to cook professional-grade stakes and burgers.
---
This product was recommended by Carolyn Mitchell from Sawyer Twain
This portable grill is crafted from ceramic and galvanized steel. The three separate racks double your cooking space and allow you to cook meats and veggies at different temperatures. Enjoy the great taste of charcoal while containing the heat and smoke thanks to the cyclonic airflow technology.
---
This product was recommended by Lynda Fairly from Numlooker
I use this when I have my friends or colleagues over for a barbeque, and I intend to use the grill. Not only is this an excellent choice for grilling, but it's also a great way to protect my deck from oil splashes from cooking meats. – It is made of silicone so that it won't stain my deck either. – If you have a stainless steel grill or oven that gets oily quickly, then this is your second option as well as the first one that I mentioned above.
---