This post contains affiliate links. Affiliate disclosure: As an Amazon Associate, we may earn commissions from qualifying purchases from Amazon.com and other Amazon websites.
This article showcases our top picks for the Best High End Headphones. We reached out to industry leaders and experts who have contributed the suggestions within this article (they have been credited for their contributions below).
We are keen to hear your feedback on all of our content and our comment section is a moderated space to express your thoughts and feelings related (or not) to this article This list is in no particular order.
This product was recommended by Matthew Paxton from Hypernia
If you're looking for premium best of the best noise-cancelling wireless headphones, then the Sony WH-1000XM4 should be the way to go. It checks a lot of boxes with design, comfort, sound, and functionality. It features a lot of cool features like wear detection, a touchpad on the side, speak-to-chat settings, multiple device support, and comes with a really handy case for storing. Definitely my go-to headphones for listening to music while working, commuting, or even getting a workout in,
---
This product was recommended by Petar Petrov from DiamondLobby
The Elegia by Focal is undoubtedly one of the best high-end headphones that you can buy on the market today. From a high-end closed-back and lightweight design weighing just 4 lbs to supreme audio quality, the Elegia is a worthy, multi-purpose purchase. These headphones are suitable for anyone who wants to experience incredible tonal balance at both very high and very low frequencies. The ear cushions are made out of 20mm memory foam covered with microfiber fabric, which not only makes the headset ultra-comfortable to wear but also provides for excellent ambient noise soundproofing. As far as the loudspeakers are concerned, the Elegia hosts a 1.6 (40mm) aluminum-magnesium M shape dome. This offers a higher break-up point compared to the one we will have from a regular dome. So it allows the extension of the frequency response even more in the upper part of the audio spectrum. Overall, from its supreme and timeless design to impeccable audio quality, the Elegia by Focal is worth every cent.
---
This product was recommended by Paige Arnof-Fenn from Mavens & Moguls
The original Bose QC (Quiet Comfort) were discontinued but they are still available under a different name. The sound quality is incredible and they feel great too, very comfortable to wear. Not cheap but worth every penny. I bought a back up in fact.
---
This product was recommended by Amy Barber from ePromos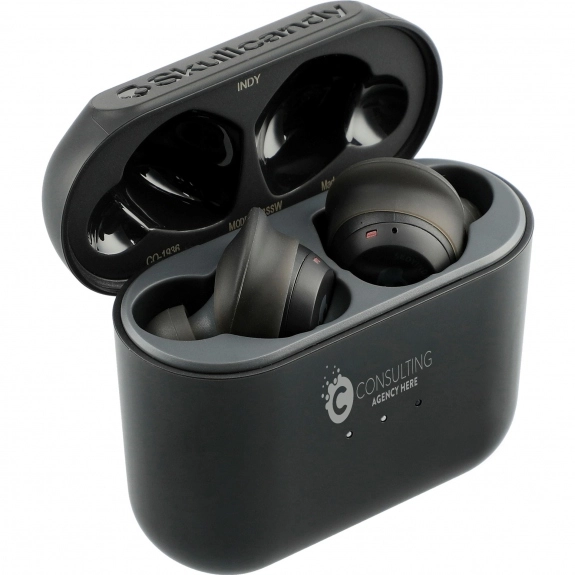 These water-resistant earbuds feature over 16 hours of playback time and can be easily charged in the provided case when not in use. * Made of ABS Plastic * Over 16 hours of playback time * Charged in the provided charging case * This case provides up to 12 additional hours of playback time * IP55 water resistant rating * Built in music controls to adjust volume and answer/reject calls * Micro USB charging cable and eargels included
---
This product was recommended by Rebecca Green from Bleat PR
ULTRASONE is a luxury headphone brand, founded in 1991 and making a name for itself across the globe, with successful DJs, renowned recording studios and hi-fi enthusiasts all praising their products. Focusing on a climate-neutral manufacturing process and using only the highest quality, carefully selected materials – including solid wood and the finest sheep leather – the Bavarian based audio company produce sustainable, remarkable designs of audio art. The ULTRASONE Performance 880 uses patented S-Logic technology to reflect sound off the surface of the outer ear in different directions before it enters the auditory canal to create a natural surround sound experience. This coupled with the S-Logic Plus Technology means a spatially improved perception of voices, and instruments with stereo sound signal. In other words, amazing sound clarity to give you concert like sound on a closed back set of headphones. This technology also allows a reduction of sound pressure levels at the eardrum – up to 40% less strain which significantly reduces the risk of hearing damage. To ensure comfort for hours on continuous listening, the headphones feature an adjustable metal headband and earpads with memory foam that adjust to fit your head and minimize external noise.
---