This post contains affiliate links. Affiliate disclosure: As an Amazon Associate, we may earn commissions from qualifying purchases from Amazon.com and other Amazon websites.
This article showcases our top picks for the
Best High End Bronzer
. We reached out to industry leaders and experts who have contributed the suggestions within this article (they have been credited for their contributions below). We are keen to hear your feedback on all of our content and our comment section is a moderated space to express your thoughts and feelings related (or not) to this article 
This list is in no particular order.
This product was recommended by Bridget Nocera from Push The Envelope PR
The Baked Mineral Bronzer is designed to deliver a beautiful natural colour and radiance for a healthy-looking complexion, in the convenience of a compact powder. This 100% mineral formula has been baked on a terracotta tile in Tuscany, Italy to create an illuminating mess-free bronzer. Lightweight and longwearing, it provides rich yet blendable color which adapts naturally to your skin tone to create a wonderful sun-enhanced radiance.
---
This product was recommended by May Flanagan from Global Green Family
As someone who works in the sustainability and green living niche, I'm always on the lookout for beauty products that not only make you look good but also feel good. What I love about the Milani Silky Matte Bronzing Powder (in the shade of Sun Drenched) is that it's lightweight, soft, and blends well with the skin. It's also formulated with moisturizing argan oil and so I like using this product for my often dry skin. Oh and, this product is vegan as no animals were hurt in making this wonderful bronzer!
---
This product was recommended by Kristin Cruz from Family Stylin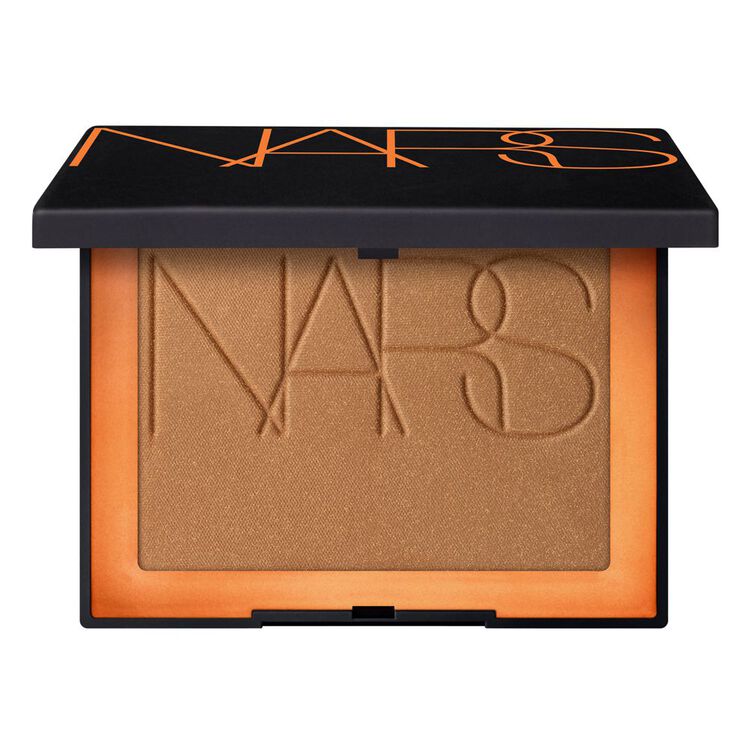 I love the Nars Matte Bronzer in the Laguna Shade. It's perfect for contour! It's best applied with an angled brush made especially for contouring. I prefer the shimmering version of Nars Laguna when used as a traditional bronzer. This can be applied lightly all over the face for a natural looking sun-kissed glow.
---
This product was recommended by Sandra Blair from CoffeeShan
I have a fair skin tone hence this bronzer suits me perfectly. It has grey undertones which give the appearance of naturally cast shadow and give an overall natural look to your face. It is available in both matte finish and shimmery finish so you can choose according to your preference. It is extremely light and easy to apply plus it has a good fragrance.
---
This product was recommended by Colleen Mathis from absoluteRrelations
SunDust is an instant mineral bronzing powder that also provides a long lasting self-tan. The finely milled mineral infused powder delivers an instant, even, smooth glow to the face as well as a natural looking self tan over time. The powder is contained in an innovative, all in one brush for easy, even application with no mess. The bronzed effect suits all skin tones creates a beautiful, sun kissed glow to the face. All Tournesol Products are Paraben Free and SUNDUST contains: – Aloe – Sunflower Seed Extract – Grape Seed Extract – DHA
---
This product was recommended by Toby Dash from Five Star Skincare
We love the fact that this powder is very neutral, so it never reads orange—making it a great natural bronzer for fair skin. The real selling point that makes it worth its $52 price tag is its luminous finish, if you dream to look like you woke up as a bronzed goddess, this is the one! The bronzer is formulated using what the brand calls photoluminescent technology, which essentially means it reflects light to blur your skin and add a lit-from-within glow. While some powders can look flat, this one has light-reflecting particles, that actually make skin look dewier—it is very finely milled, so no huge sparkles. Perfect for contouring your face without the heavy dark unnatural lines you often get from other products, this is definitely worth the splurge in our opinion. A beautiful buildable bronzer that makes your skin look healthy.
---
This product was recommended by Jen Jones from Your Dog Advisor
I highly recommend this bronzer. It looks & feels natural. I have sensitive skin and I have had no skin irritations from this bronzer.
---