This post contains affiliate links. Affiliate disclosure: As an Amazon Associate, we may earn commissions from qualifying purchases from Amazon.com and other Amazon websites.
If you're going somewhere with lots of water we highly recommend that you add scuba diving to your itinerary. When it comes to scuba diving, people are either really excited about the idea and curious to give it a go or absolutely terrified by it. This fear is largely due to a variety of misconceptions rather than fear of open water and aquatic creatures. It might seem really intimidating but when you scuba, you aren't forcefully thrown into the deep end. Scuba experiences vary. You could dive into a tank in a really controlled environment or you could dive around a beautiful reef off the coast of somewhere breathtaking. Here are 6 reasons why you absolutely have to try diving on your next vacation.
1. You Get To Experience A Destination from a Different Perspective
People tend to go to the same holiday destinations over and over. This is because they've found a place that they like, but after repetitive visits, things can get a little boring and the place loses its magic. Switching up your activities could be what your favorite destination needs. In the words of these experts even if you've never been diving before, certain places can start you immediately and get you up to scratch with what you need to know and how to dive. It is a great way to experience something familiar from a totally different perspective. It even opens the door for new holiday destinations. You never know, you might love it once you give it a go.
2. It's Relatively Inexpensive
In terms of expenses, people tend to think that it's a relatively costly activity. This isn't always the case. If you're on a destination beach vacation, chances are that there are quite a few scuba instructors around. At holiday destinations there tends to be a lot of competition, so people get competitive with their pricing. You shouldn't have too much difficulty renting an instructor and equipment for a relatively good price. It is a great way to spend a large portion of your day and is particularly enjoyable for families with older children.
3. Explore Exotic Ocean Wildlife
If you or your family are nature lovers, this is a really amazing and unique way to get up close and personal with exotic ocean creatures. This is way better than just visiting the closest aquarium. You get to see these beautiful creatures in their natural environment as well as a plethora of beautiful coral reefs and kelp forests. You'll get to see all sorts of different creatures from fish to turtles and more leaving you in awe with a new sense of appreciation.
4. It Gets You Outside
On holiday, people just want to relax, but relaxing can get boring, and having nothing to do outside of where you're staying can actually ruin your holiday. If it's too hot to get outside and go for walks or similar activities, diving is one of those outdoor activities that keep you relatively cool while doing it. It doesn't even feel like you're doing something that physical. It's a great way to feel like you've done something with your day without feeling exhausted and irritated while doing it.
5. You Don't Have To Be A Master Swimmer
If you are a little anxious about your swimming abilities, you don't have to be the strongest swimmer in order to enjoy diving. You should ideally be comfortable in the water and know how to swim because you will need to swim, but that's the minimum requirement. You'll have an instructor with you the entire time you are starting out, so there's nothing to be worried about. You'll be safe and having a great time.
6. It's a Chill Activity
Scuba diving is something you can do at your own pace. You don't have to rush to keep up with everyone else, but you ideally want to stick with the group just in case something happens. Another reason you should stick with the group is so that you can share the great views you experience. The feeling of calm waters hugging you is really relaxing and, coupled with the scenery, the experience can be quite beautiful. It is a really chill activity that still manages to pack quite the punch when it comes to the list of memorable experiences.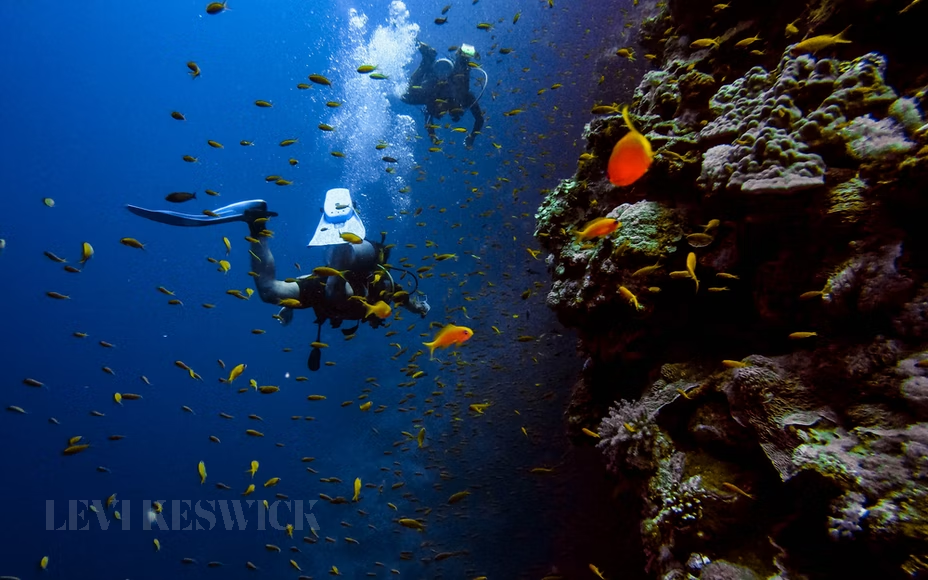 Diving is an activity that people feel is out of reach, expensive and scary, but this isn't the case. There are plenty of reasons why you should go diving on your next vacation. If you are excited about this idea, read up about diving safety as well as good practices so that you are informed before you take the plunge.